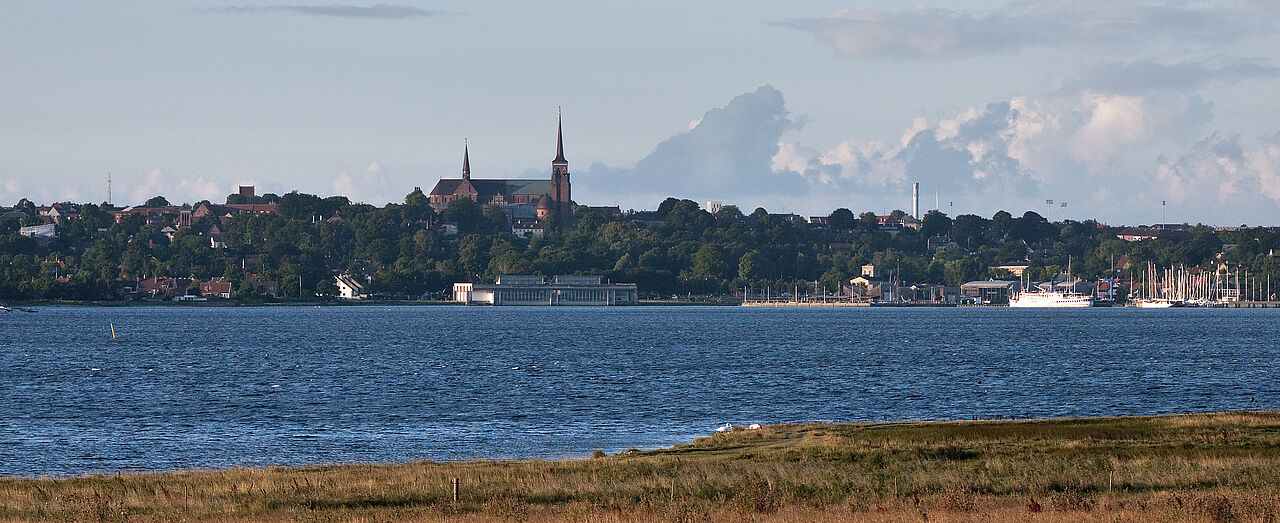 Roskilde Cathedral, located in the historic town of Roskilde, Denmark, stands as a testament to centuries of architectural and cultural significance. A masterpiece of Gothic design, this magnificent structure dates back to the 12th century and is a UNESCO World Heritage Site.
The cathedral's soaring spires and intricate detailing capture the eye and imagination of all who visit. Its rich history is intertwined with that of the Danish monarchy, serving as the final resting place for 40 kings and queens, including some of Denmark's most influential historical figures. The grandeur of the interior, with its ornate chapels and beautifully crafted tombs, reflects both the religious devotion of the past and the artistic prowess of the craftsmen who contributed to its creation.
Beyond its architectural marvels, Roskilde Cathedral has played a vital role in the cultural heritage of Denmark. The cathedral also stands as a place of worship and contemplation, inviting both locals and tourists to reflect.
Architecture
The Cathedral is a UNESCO World Heritage Site because of its unique mix of architectural styles added due to its function as a royal mauseolum. It's also one of the oldest brick churches in Northern Europe and one of the first Gothic brick churches in the world.
UNESCO's criteria for Roskilde Cathedral
Criterion (ii): Roskilde Cathedral is an outstanding example of the earliest major ecclesiastical building in brick in Northern Europe and had a profound influence on the spread of brick for this purpose over the whole region.
Criterion (iv): Both in its form and setting, Roskilde Cathedral is an outstanding example of a North European Cathedral complex especially noteworthy for the successive architectural styles used in ancillary chapels and porches added in the course of the centuries during which it has served as the mausoleum of the Danish royal family.
Royal tombs
Royal funerals are poignant and solemn ceremonies that mark the passing of a monarch or a member of a royal family. These events blend tradition, history, and protocol, reflecting the cultural and social significance of the ruling dynasty. From the grandeur of the funeral processions to the intricate rituals and customs, royal funerals are steeped in symbolism and hold a unique place in the collective memory of a nation. Tombs and final resting places for royals hold historical and architectural significance. Often, they become sites of remembrance, drawing visitors from around the world. The architecture and design of these tombs may reflect the individual's personality, achievements, and contributions, serving as a lasting tribute to their legacy.
According to legend, Harold Bluetooth built the first church and was buried here. This is uncertain. As far back as the early Middle Ages, Roskilde Cathedral was a strategic partner in the fight for power. With Harald Bluetooth as the first church-builder, Sweyn Estridsen (died 1076) as the earliest king known to be buried in the church, Margrete 1 (1353-1412) as one of the strongest monarchs and Christian 4 (1577-1648) as one of the most popular monarchs, a string of royal personalities have left their mark on the building. And as something quite unique, since the late 1500s, all Danish kings and – with only one exception – queens have found their final resting place in Roskilde Cathedral. The cathedral has been a royal burial church for a 1000 years and this tradition will continue with Her Majesty Queen Margrethe 2. As something quite unique, you can sit on the bench that covers the queen's future sepulchral monument and enjoy the beautiful mediaeval frescoes above.
Would you like to hear all the fantastic stories from the Danish royal history, you can book a guided tour or read it for yourself in the brand new book "Kings and queens in Roskilde Cathedral available at the church as well as online in ROMU's webshop.
Kings and queens laid to rest in Roskilde Cathedral
House of Gorm and House of Valdemar
Harold Bluetooth (died in 987 at the latest). Ascribed to the Cathedral, but no archaeological trace.
Sweyn Forkbeard (died 1014). Ascribed to the Cathedral, but no archaeological trace.
Sweyn Estridsen (died 1074 or 1076).
Margrete Estrid (1058-1093). Harald Hen's queen.
Margrete 1 (1353-1412).
Christopher of Bavaria (1416-1448). Siting uncertain.
House of Oldenburg
Christian 1 (1416-1481) and Dorothea (ca. 1430-1495).
Christian 3 (1503-1559) and Dorothea (1511-1571).
Frederik 2 (1534-1588) and Sophie (1557-1631).
Christian 4 (1577-1648) and Anna Cathrine (1575-1612).
Frederik 3 (1609-1670) and Sophie Amalie (1650-1685).
Christian 5 (1646-1699) and Charlotte Amalie (1650-1714).
Frederik 4 (1671-1730) and Louise (1667-1721) and Anna Sophie (1693-1743).
Christian 6 1699-1746) and Sophie Magdalene (1700-1770).
Frederik 5 (1723-1766) and Louise (1724-1751) and Juliane Marie (1729-1796).
Christian 7 (1749-1808).
Frederik 6 (1768-1839) and Marie Sophie Frederikke (1767-1852).
Christian 8 (1786-1848) and Caroline Amalie (1796-1881).
Frederik 7 (1808-1863).
The House of Glücksburg
Christian 9 (1818-1906) and Louise (1817-1898).
Frederik 8 (1843-1912) and Lovisa (1851-1926).
Christian 10 (1870-1947) and Alexandrine (1879-1952).
Frederik 9 (1899-1972) and Ingrid (1910-2000).